Home > Products > Amazon Management > Syncing Amazon Inventory



By Syncing Inventory on Amazon, you can always have your Amazon inventory match the inventory that is in your store. This works in a one way direction as a customer would place an order on your website, and your website will reflect the new inventory quantity of the item that sold. We then import your new inventory quantities from your website, and push the updated inventory quantities to Amazon.

The image above shows how It can work for a sale on Amazon or on your website to update inventory using a 3rd party order management system.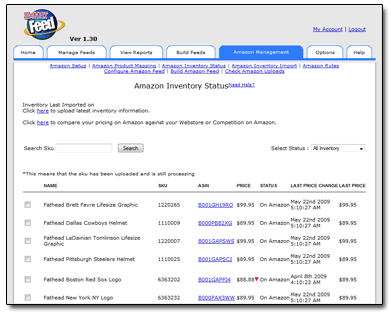 The Amazon Inventory Status screen displays your current inventory either Mapped, Processing, on Amazon already, or queued for deletion. A dropdown on the top right allows you to select which of these you want to view.

If you need to remove a product from Amazon, you can search for the sku to remove and put a checkbox next to it, and click "Add or Remove Checked Items From Inventory". Products with zero inventory will not show on an Amazon SellerCentral Inventory Report. While zeroing out a products inventory will essentially remove the product from Amazon for purchase, permanently deleting a product completely can only be done within the SellerCentral control panel.

You will also be able to sync your inventory from your store to Amazon as frequently as every hour with the Scheduler, so when a product goes out of stock in your web store, you can't oversell on Amazon. Similarly, when an item is added back in stock on your store, it will be added back in stock on Amazon.